Good form.
We offer a full range of construction and building services. Whether we're shaping a stunning architecturally-designed new home for your family, or a purpose-built premises for your business, we'll work closely with you to deliver results you'll be proud of, while taking away the pressure of the process.

Project
Management.
Red + Black Construction are registered Master Builders. We offer the benefit of years of project management experience and meticulous attention to detail to ensure your project runs smoothly, on time and on budget, from concept to completion. We can work in a way that suits you using our own skilled and certified team of builders, with our preferred sub-contractors, or using sub-contractors specified by you.
Architectural
Building.
Architecturally-designed residential and commercial builds are our specialty. We're flexible, so whether you already have plans or you'd like us to bring in our recommended design team we'll work closely with everyone involved to bring your vision for your new home or premises to life. We'll make sure you get the best value by presenting you with several quotes from sub-contractors, and by managing teams, timelines and the whole kit and caboodle on your behalf we'll make your new-build a great experience.
So happy with the result from start to finish. Red and Black Construction made it easy! Now we can enjoy our new home.
- S Gardener.

Nook
Tiny House.
Small yet ridiculously perfectly formed, Nook is an architecturally designed tiny house that comes with its own trailer. It's ideal for anything – as a tiny home, a bach, as extra home space, or as farm accommodation or even as a studio or office space. Available in two pint-size sizes, choose a standard good-to-go option or customise your Nook to suit your style.
Renovations.
Shaping your perfect home doesn't always mean starting from the beginning. From remodelling your bathroom or kitchen, to creating additional spaces, to renovating your entire home, we can transform your space in a way that will suit your home down to the ground. Our landscaping and hardscaping services mean you could even make the most of your outdoor space at last.
Commercial
Building.
We're proud to be behind some of Christchurch's favourite small-to-medium-sized commercial projects. We can work with you to create high-quality, eye-catching shop fit-outs, office premises, school buildings, warehouses etc, working with your own plans and architect or with a design team we recommend.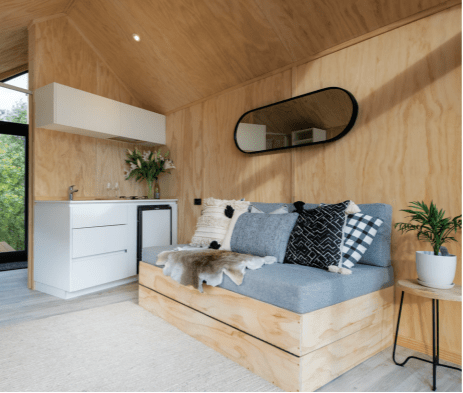 Thanks for your work and for going the extra mile. The house looks great – better than it ever has and we really do appreciate it. We'd be happy to work with you again.
- K Peters.